Indestruct Steel Core Support System:
Offering extreme support and durability, the Indestruct Steel Core Support System comprises the following components :
50kg, S235 structural grade, solid steel chassis (featuring built in Dual C-Spine Support Beams).
Uniform Distribution Air Support Panels (UDASP) made from high strength 18mm birch plywood. UDASPs are designed to optimise mattress ventilation and to provide distributed support across the entire pocket spring system of your Sleeping Duck mattress.
L-Spine Tri-Mount Bedhead Braces made from S235 solid steel and featuring tri-lock mounts for ultra firm bedhead attachment (applicable for bed options that include a bedhead).
M39 Bolt UltraSecure Leg Assembly that fastens via 39mm diameter bolts, and is guaranteed never to squeak.
Headboard:
The headboard is composed of a high strength poplar plywood structure with a textured 100% polyester fabric finish.
Side Panel:
Each side panel is made of a solid poplar plywood core with a textured, 100% polyester fabric overlay.
M39 Legs:
The entire structure is supported by six legs made from S235 solid steel. The four corner legs are clad in American Walnut timber with brass caps fixed to the bottom and the two central, inner legs are clad in European Oak timber. All legs are height adjustable (up to 5cm) to ensure perfect levelling. 
The timber and veneer we use is of the highest quality and is certified by the FSC (Forest Stewardship Council) as having come only from renewable sources.
* Please note : Due to its organic nature, colour variations may appear in beds with timber finishes.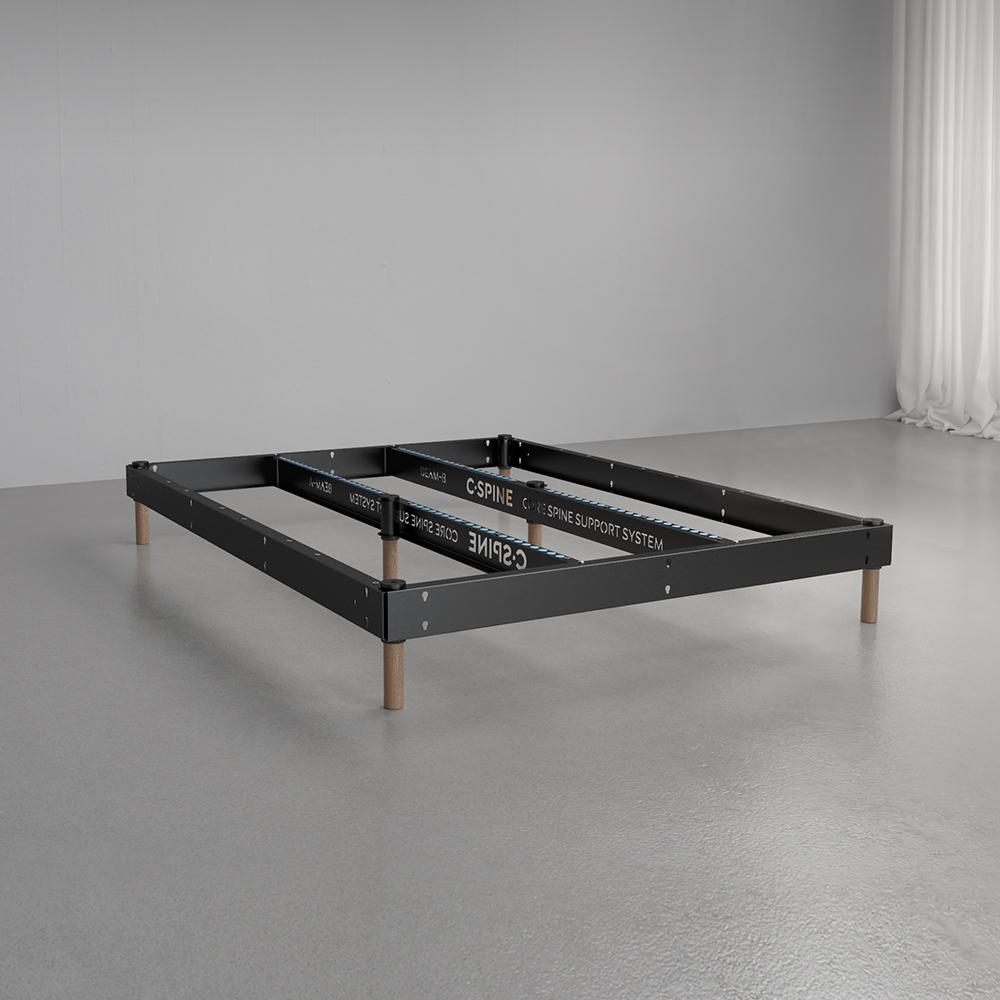 Indestruct Steel Core Support System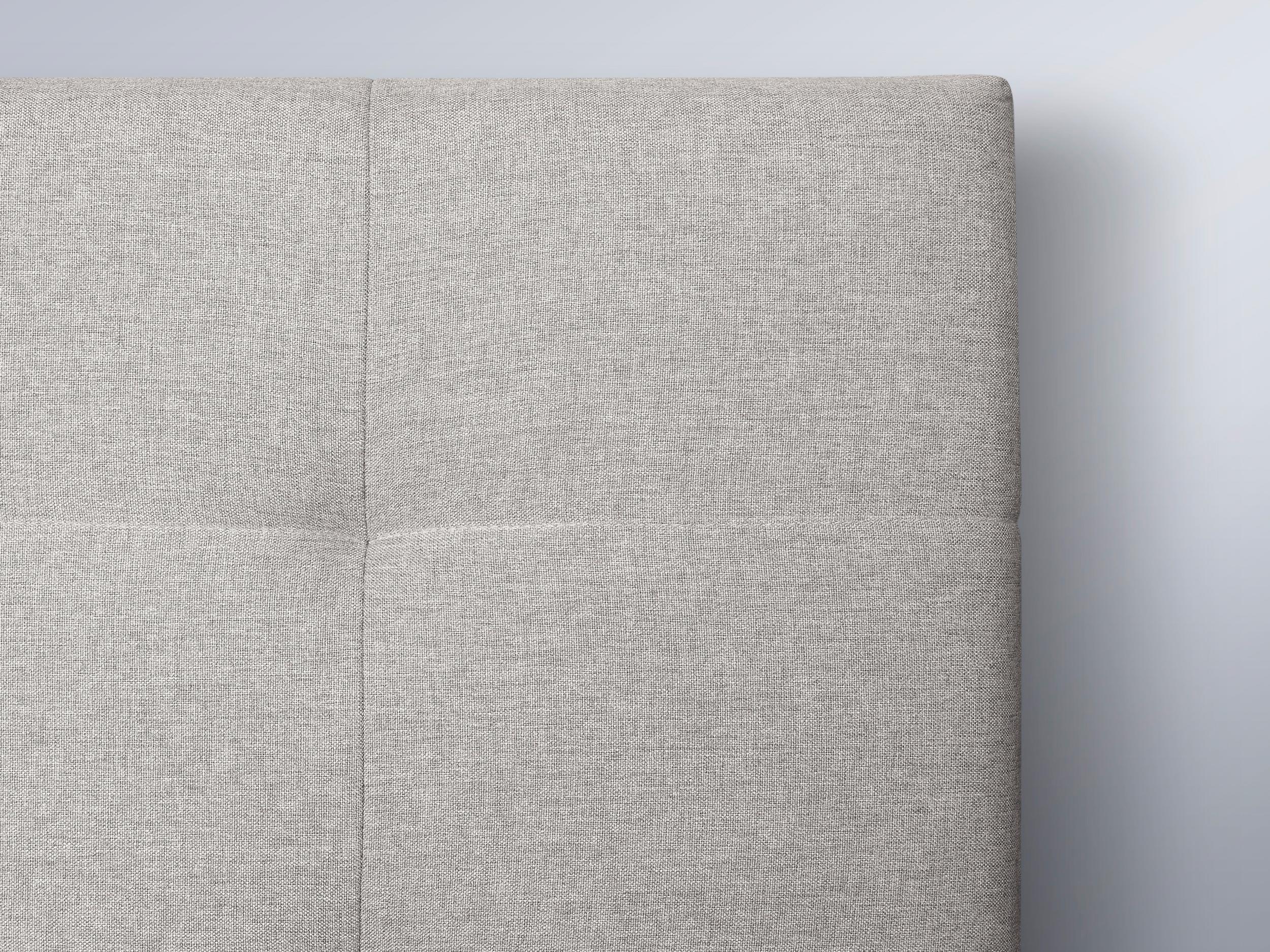 Headboard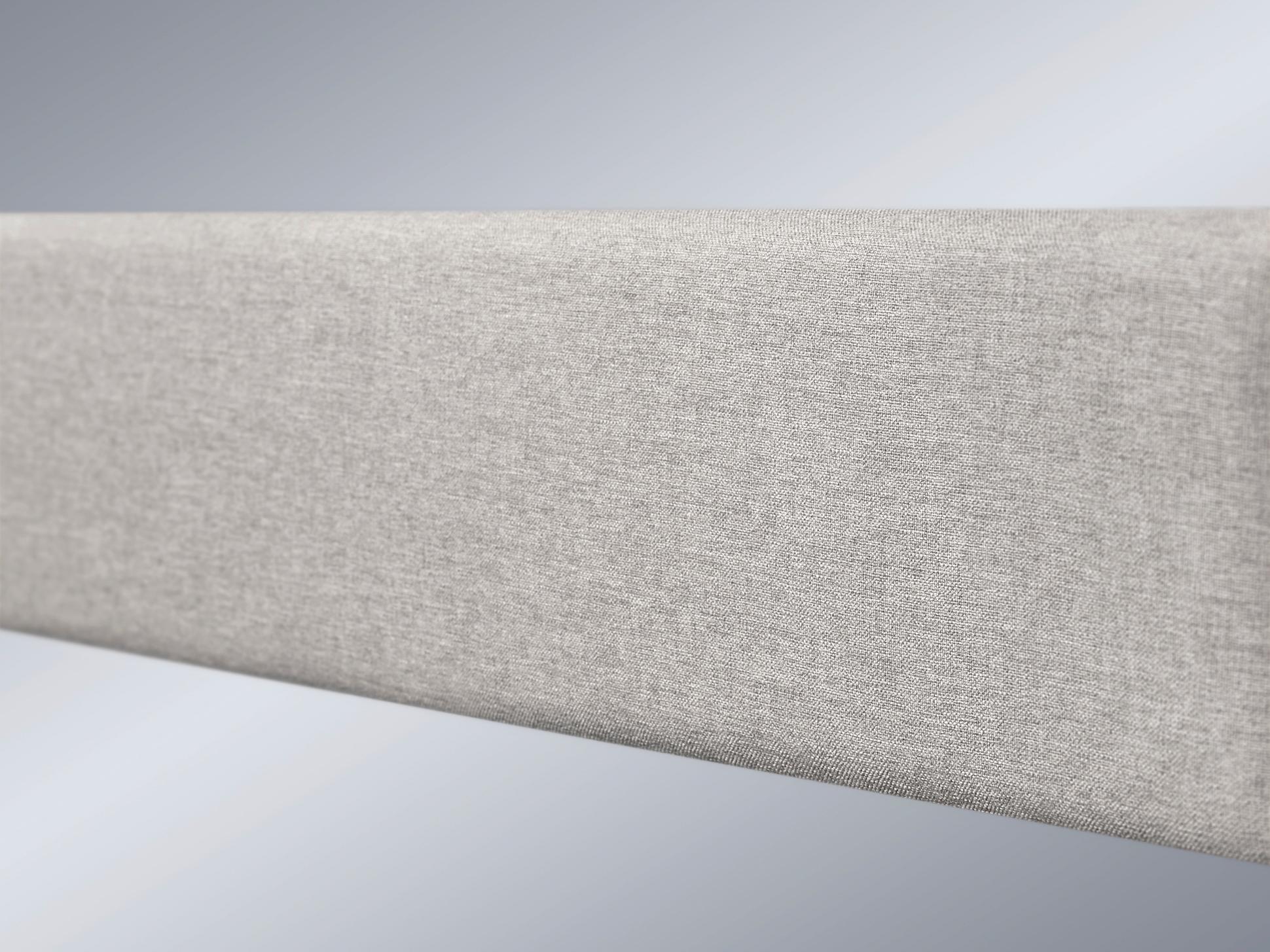 Side Panel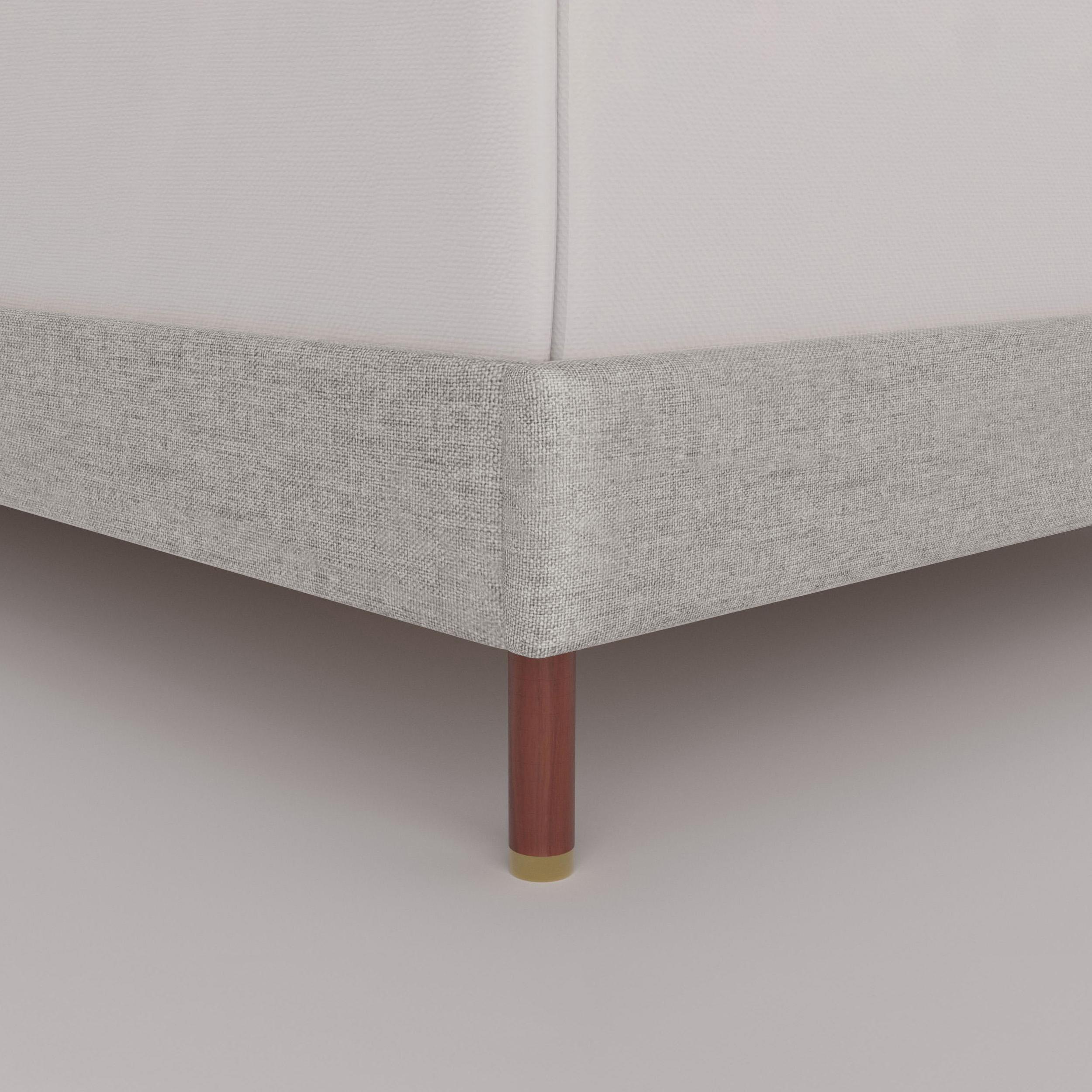 Legs
Bed Size: Queen
Dimensions and materials:
218cm x 180cm x 113.5cm (L x W x H), 123 kg
Floor to top of mattress: 59cm
Floor to top of platform: 28cm

Mattress sits within Frame: 3.5cm
Note: Tolerance of error for these dimensions is +/- 2cm
Timber
Keep in mind that timber is an organic product whose colour will mature with age. 
All our timber is treated with a high quality sealant that prevents moisture build up. 
Surface dust can be gently removed with a clean damp cloth. Always wipe in the direction of the grain and not in a circular motion.
Any spillages or liquids should be wiped off immediately with a damp cloth, and the timber should be allowed to air dry at room temperature. 
Do not use general household cleaning products, or abrasive items on the timber.
Exposure to direct sunlight or extreme humidity should be avoided.
Upholstery
Fabric should not be exposed to direct sunlight or direct heat as it can cause the colour to fade.  
Be careful of denim or dark clothing as this may transfer the dye and mark the upholstery. 
Minor stains or discolouration can be treated with a small amount of gentle household detergent and warm water. Gently dab it with a clean paper towel or cloth and allow it to dry. Always test on a small patch of fabric beforehand. 
Dust can be removed with a lint roller or a vacuum fitted with the upholstery tool head.
Velvet can be gently brushed with an upholstery or a soft bristled clothes brush to renew the nap. 
Brass/Chrome
Avoid contact with sharp objects.
Use a soft polish cloth to help maintain lustre.
Premium Delivery
Cost: Free
Details:
Delivery into a room of your choice
Does not include assembly of bed
Availability - Melbourne, Geelong / Surf Coast, Adelaide, Sydney, Brisbane, Perth
Premium Plus Delivery
Cost: $199
Details:
Delivery into a room of your choice
Includes assembly of bed
Includes rubbish removal
Availability - Melbourne, Sydney, Brisbane
Frequently Asked Questions
What is the warranty for the SD Indestruct Bed?
Our SD Indestruct Bed's Steel Core Support System is covered by our limited lifetime warranty, and the Artisan Skins are covered by our 12 month limited warranty.
We'd recommend heading to our warranty page to learn more about what's covered. For any questions, please get in touch with the friendly team at SDHQ.
Does the SD Indestruct Bed come with a 100 Night Guarantee?
We don't include our SD Indestruct Bed as part of our guarantee range as it doesn't require testing or adjusting. That being said, our SD Indestruct Bed also comes with a lifetime warranty on the Indestruct Steel Core Support System and a 12 month limited warranty on aesthetic finishes to keep you covered in the event of any manufacturing defects.
If you receive your SD Indestruct Bed and change your mind, you can return these products within 14 days of delivery provided they are unopened and all original packaging is intact.
Do you offer any customisations for the SD Indestruct Bed?
Our SD Indestruct Bed is currently available in the finishes as pictured on our website. If you are interested in a combination of finishes that is not currently available, please contact us at SDHQ.
Keep in mind that you do not necessarily need to purchase our bases or frames if it does not suit your aesthetic. You just need to ensure any base you are considering meets our mattress warranty requirements.
What are the dimensions of the SD Indestruct Bed?
As our SD Indestruct Bed is available in various sizes. styles and finishes, you'll find the specifications can differ depending on your selection.
Each is suited to Australian standard mattress sizing and you'll find detailed information after selecting all your bed styling options here. You can also give our SDHQ team a shout here for any clarification on your choice's dimensions.
From the floor to the top of our Mattress, all styles of our SD Indestruct Bed have a total approximate height of 59cm.
The SD Indestruct Bed has a clearance from the floor to the bottom of the frame of approximately 16cm. Keeping in mind that our Classic Oak and Classic Walnut legs are height adjustable (up to 5cm) to ensure perfect levelling.
Our Haussman, Palais and Seaspray families are available with deep side panels, which would minimise this clearance to approximately 3cm.
Where can you deliver the SD Indestruct Bed?
Due to the size and weight of the SD Indestruct Bed components there are some limitations to where we can deliver and the delivery services available for each range.
Our Baker and Boyd ranges are available in all our standard metropolitan delivery areas. Our Haussman, Palais and Seaspray ranges are only available in our Premium delivery areas.
To find out more about where these services are offered, head to our delivery FAQs here.