Hassle-Free Mattress Buying. With Peace of Mind.
How it works:
Choose Firmness and Buy Online
Simply choose what you prefer, medium or firm. Don't worry, you'll be able to change the firmness via foams swaps for 100 nights for free to get it perfect.
Delivered Next-Day on 100 Night Guarantee
Choose your preferred delivery date and time. It will come straight to your door!
Free Firmness Swaps to get it Perfect
You'll have 100 nights to adjust the mattress to perfection. If you're not 100 percent loving it, we'll pick it up free of charge and give you a full refund.
What's inside the Sleeping Duck SD MACH II
The Best Quality Possible. Built to Last. Full transparency. Here's exactly what's inside.
Made from vortex spun bamboo yarn
Maximum breathability
Soft and silky to touch
Removable and washable
Made from high density AirGrown polyurethane foam
Creates a feeling of weightlessness
Porous and breathable
Level A Global Green Tag Certified Foam
Made from vortex spun bamboo yarn
Maximum breathability
Soft and silky to touch
Removable and washable
Made from high density AirGrown polyurethane foam
Creates a feeling of weightlessness
Porous and breathable
Level A Global Green Tag Certified Foam
Made from high density AirGrown polyurethane foam
Available initially in medium or firm
Level A Global Green Tag Certified Foam
Tailored support zones to suit specific parts of your body
Springs act entirely independently
Reinforced perimeter support
Made from twice tempered steel springs
Sleeping Duck mattresses have won several awards following rigorous and objective, scientific, in-lab testing.
But unlike its in-store competitors, it comes manufacturer direct at a fraction of the price.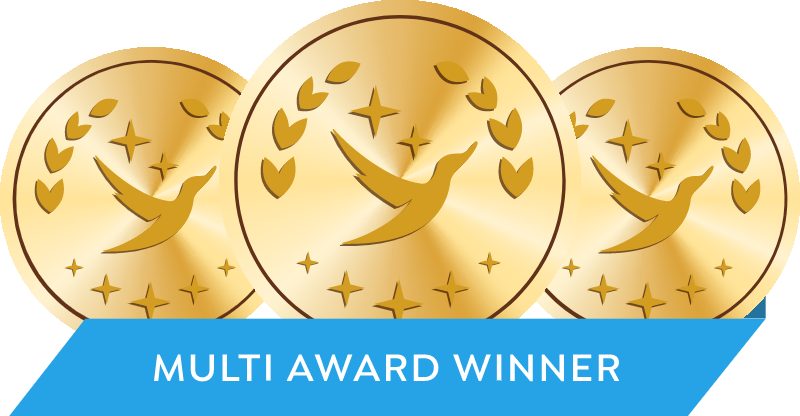 Comfort Exactly how you want it
The BreatheTech hyper soft bamboo knitted cover together with specially manufactured Australian Made Antigravity Surface Foam ensures the ultimate softness without impeding sleeper moveability (compared to memory foam for example), and coolness.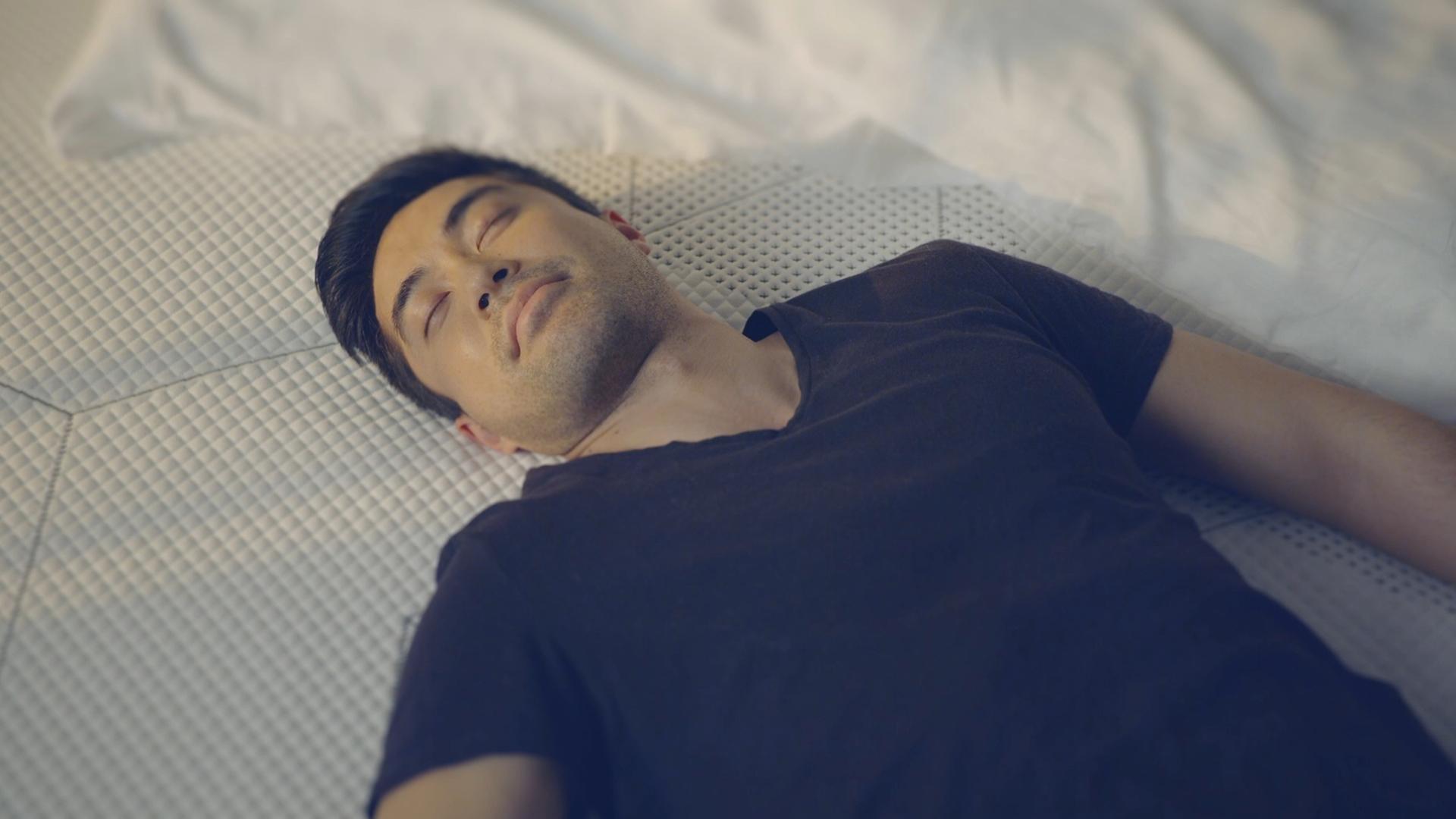 Get the Firmness just the way you like it at home.
For both you and your partner, interchangeable firmness system that allows you to adjust it at home without pressure, to perfection.
Not just foam. Real Steel Springs for Proper Back and Body Support.
This mattress is setup to ensure the ultimate body support. A layer of adjustable variable firmness foams together with a perfectly calibrated twice tempered steel multizone pocket spring system ensures that the support is rock solid, and directed to the right parts of your body in just the right amount.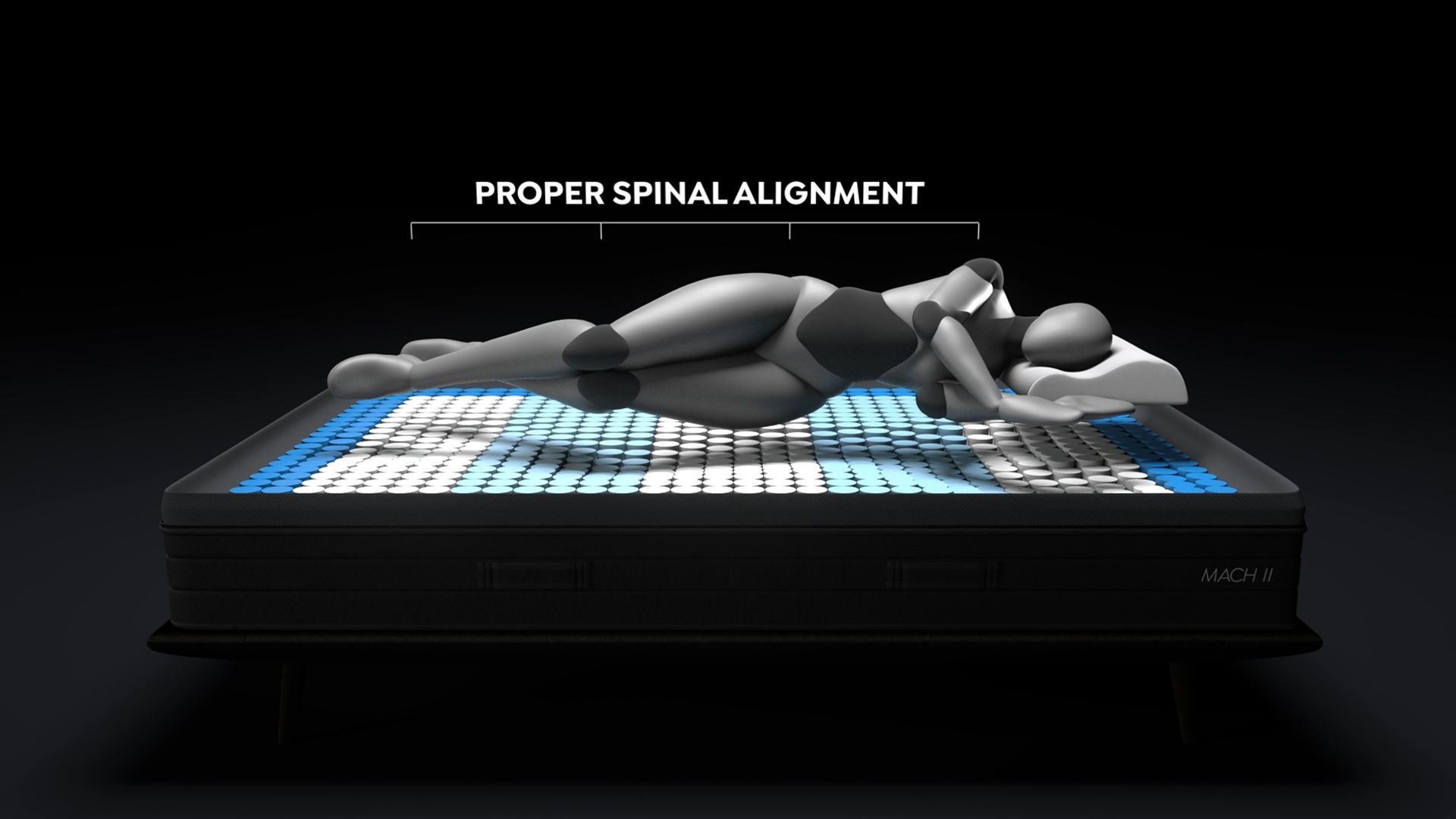 More Functional Space on the Bed thanks to Perimeter Springs
A Perimeter Zone of high strength Twice Tempered Steel Springs ensures that you can sleep right up to the edge, without collapsing it and rolling off (as often occurs with foam only mattresses which lack spring support). This provides up to 20 percent extra functional space on the top of the mattress, and makes 'the Queen size mattress feel like a King'.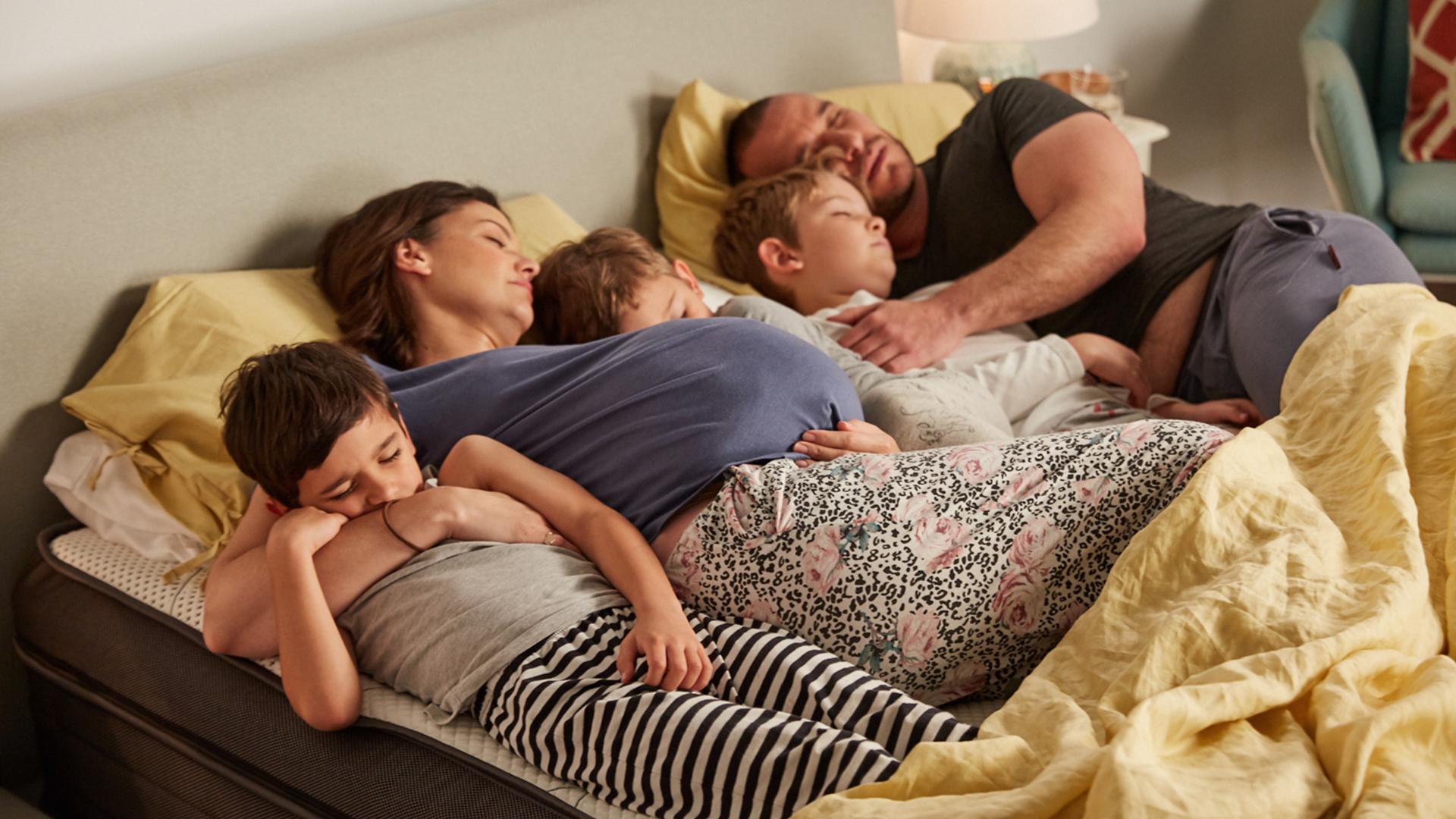 Refreshable Cover and Foams
so you can keep it like new.
Designed so you can keep it like new. The BreatheTech™ Cover is built and tested to resist pilling so you can Machine Wash it as often as you like - you can even replace it with a new one whenever you want.
Even all the 100% Australian made high density foams can be removed and vacuumed, or eventually replaced if you prefer. The high quality springs, which are built to last, mean this is possible even several years down the track.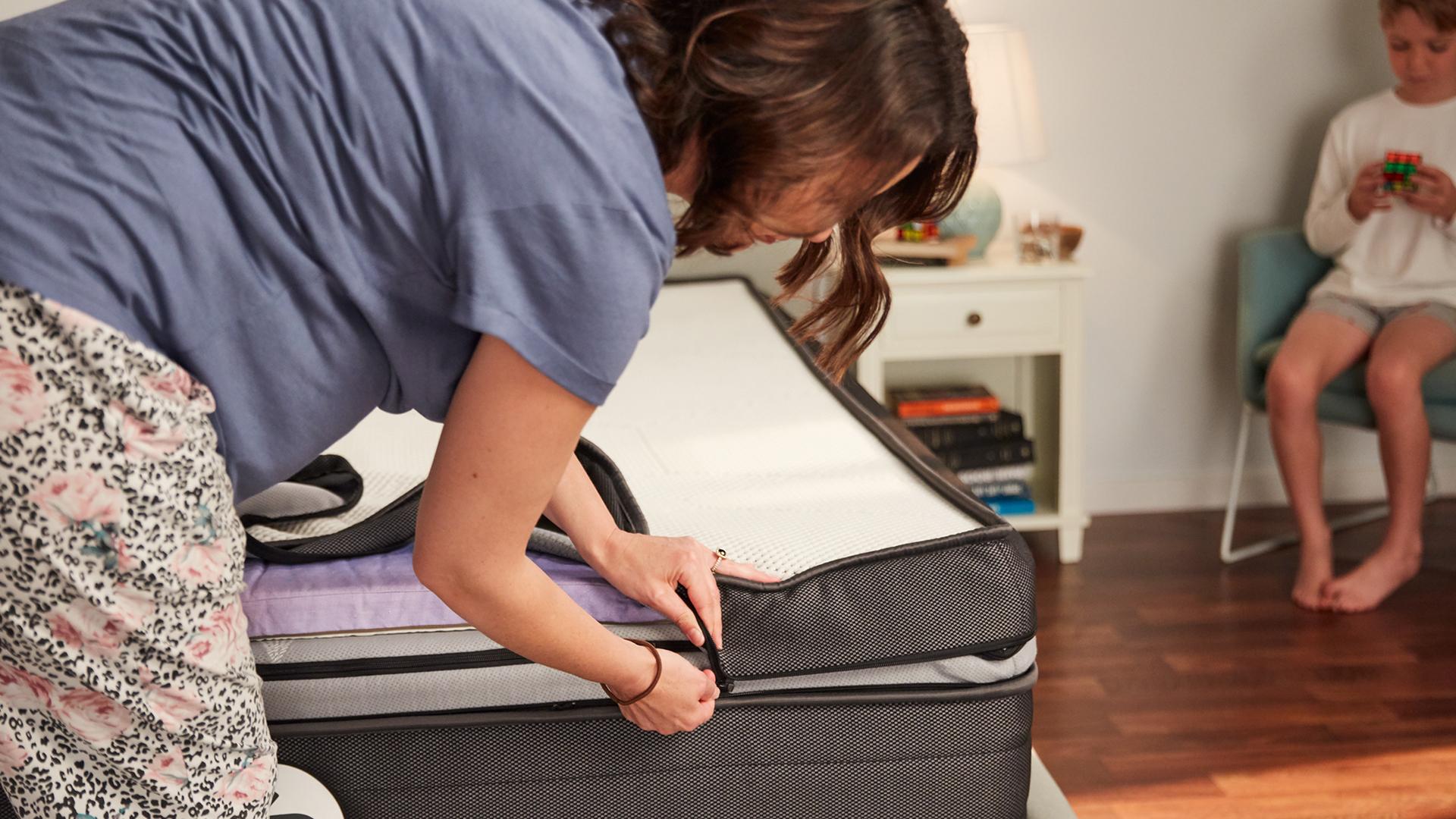 A mattress that sags after a year or two of use can be seriously detrimental to your body
This is why the Mach II is built with Indestruct twice tempered steel springs to overcome the shortcomings of a foam only mattress. The two layers of foam that rest on top of the springs are 100% high density Australian-made AirGrown foams, which are incredibly sag-resistant. And just to be sure, we tested it with 8 years of simulated heavy usage.
There's no doubt about it. This mattress is built to last.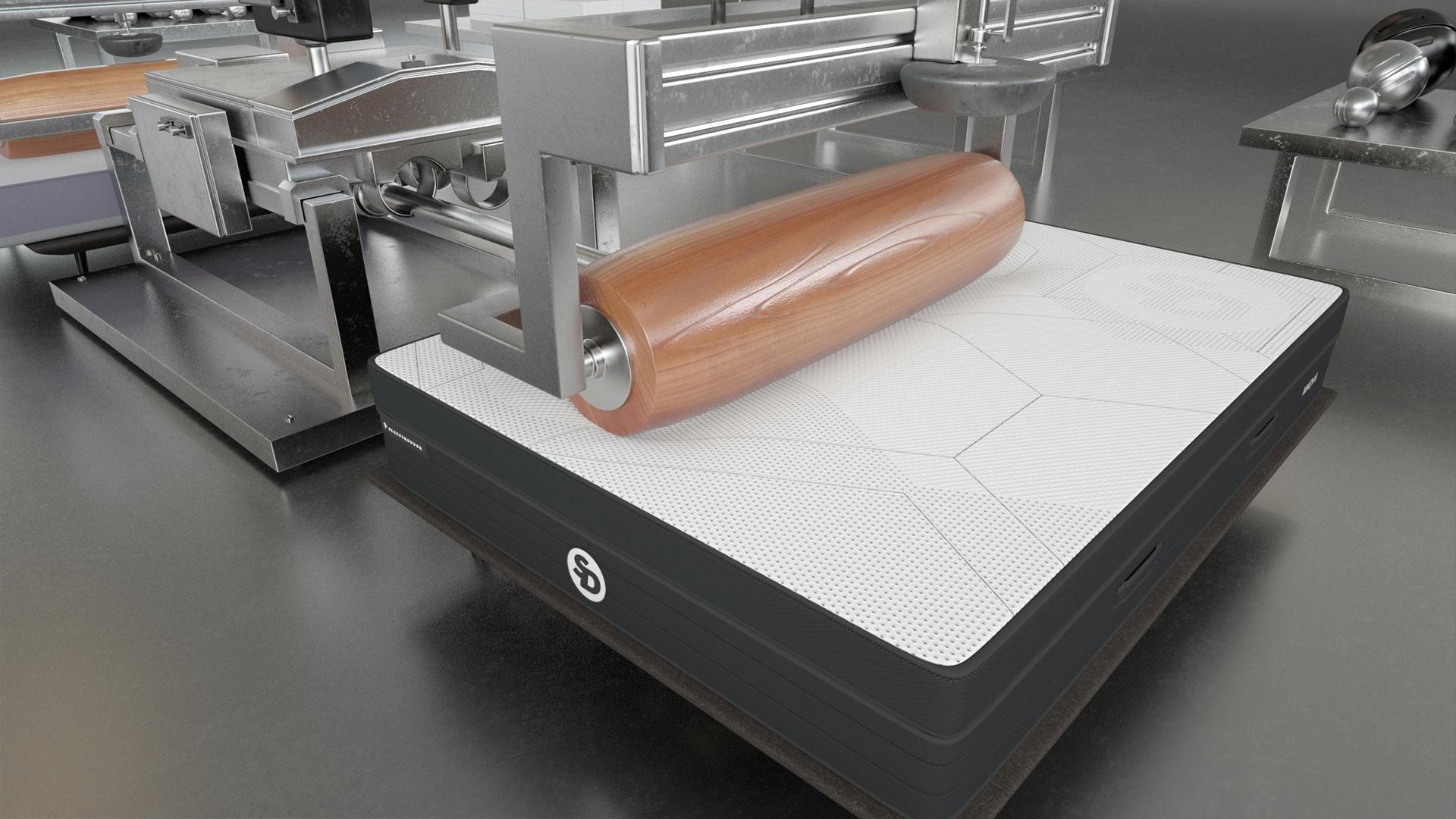 Manufacturer Direct Value.
A fraction of the instore price.
Next Day Delivery. 100 Night Guarantee.
The Engineer founders of Sleeping Duck aimed to make Mattress buying simple, and to give you the ultimate peace of mind.
They set out to build the highest quality mattress possible, scientifically test every element for durability and comfort, be completely transparent about what's inside and to make it available to every Australian online, manufacturer direct at a fraction of the instore price.
It comes delivered next day with 100 night no obligation guarantee. If you decide it's not for you, we will pick it up at no cost, donate the mattress to charity, and refund 100% of your money.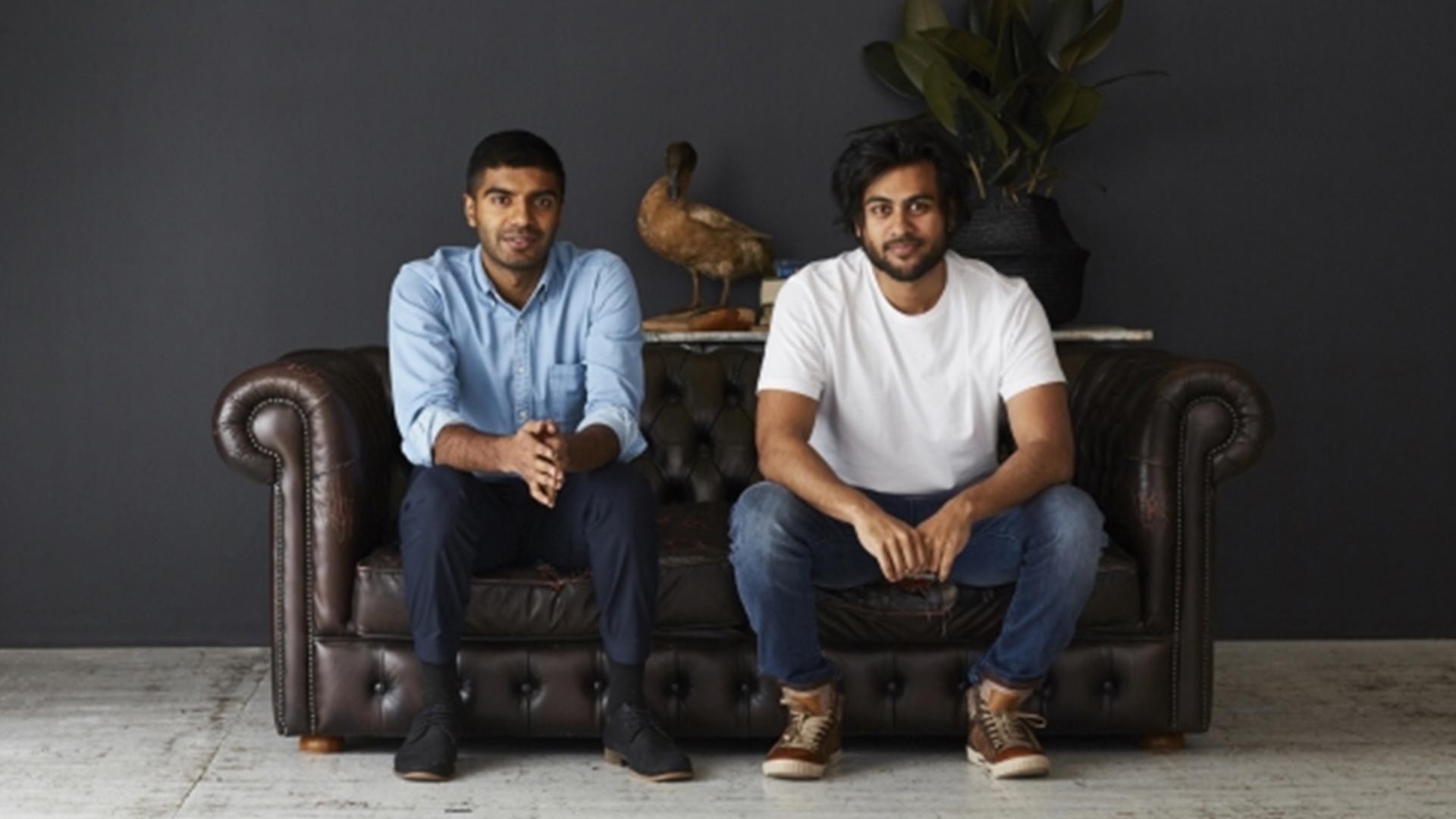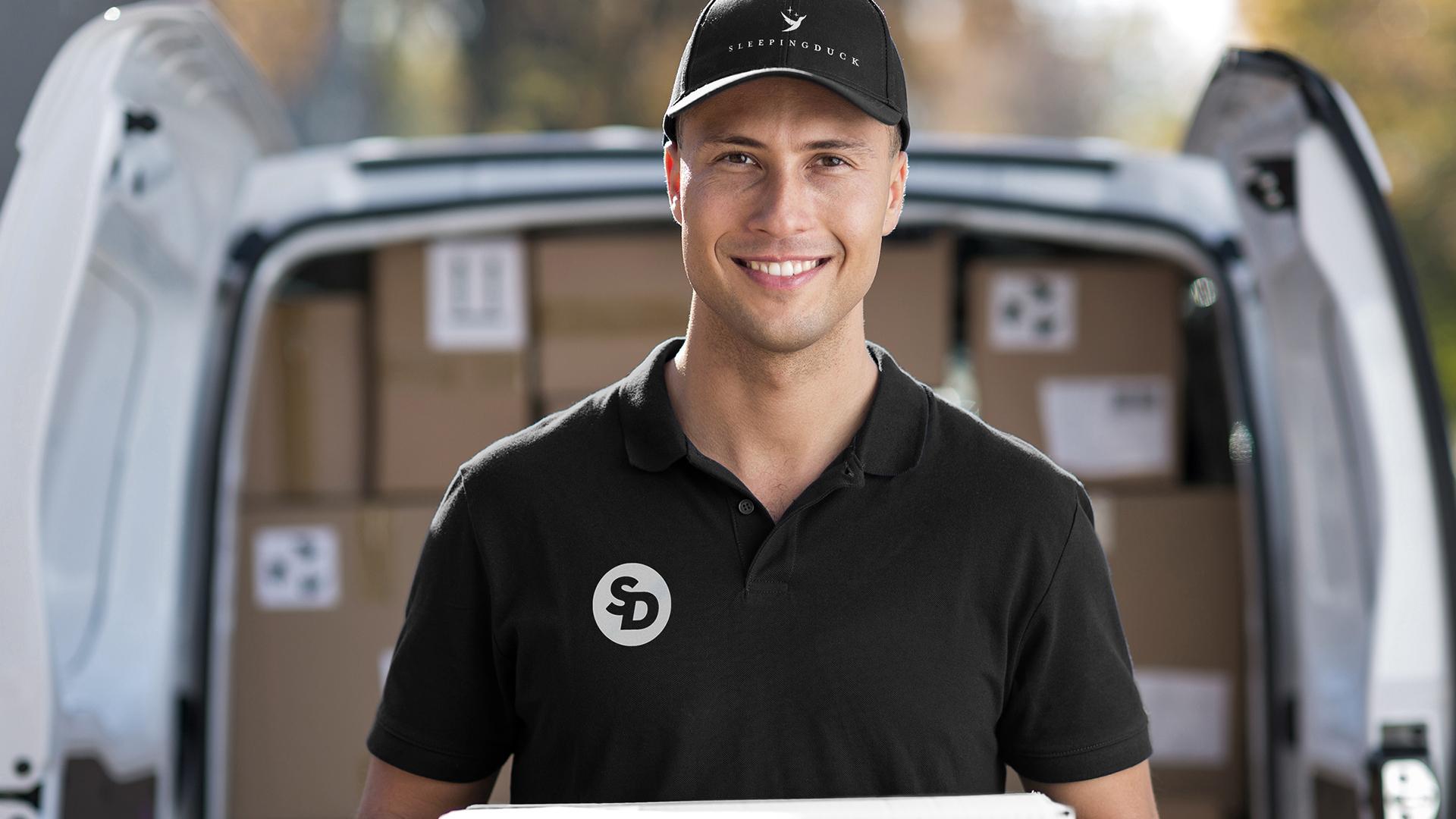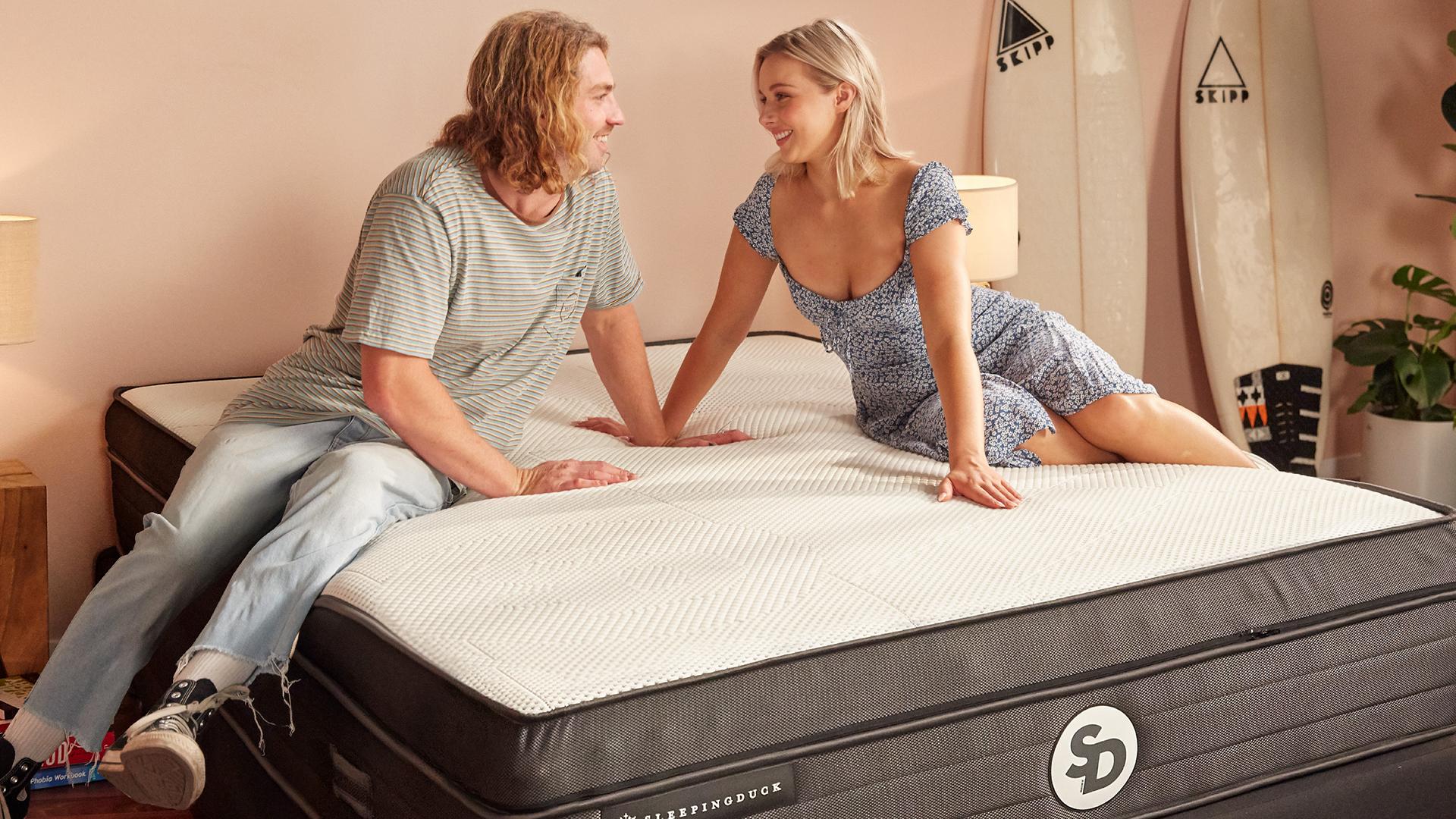 Designed To Suit Any Setting.
From the Guest Room…
To the Sleep Perfectionist.
The manufacturer direct value means a luxurious sleep from a mattress built to the highest possible standards no longer costs ten thousand dollars or more, and is available to everyone - even those on tight budgets.
This makes it perfect for the apartment, the family home, the guest room or weekender to even the most discerning sleeper who can choose to perfectly match the firmness to match his or her body and unique situation.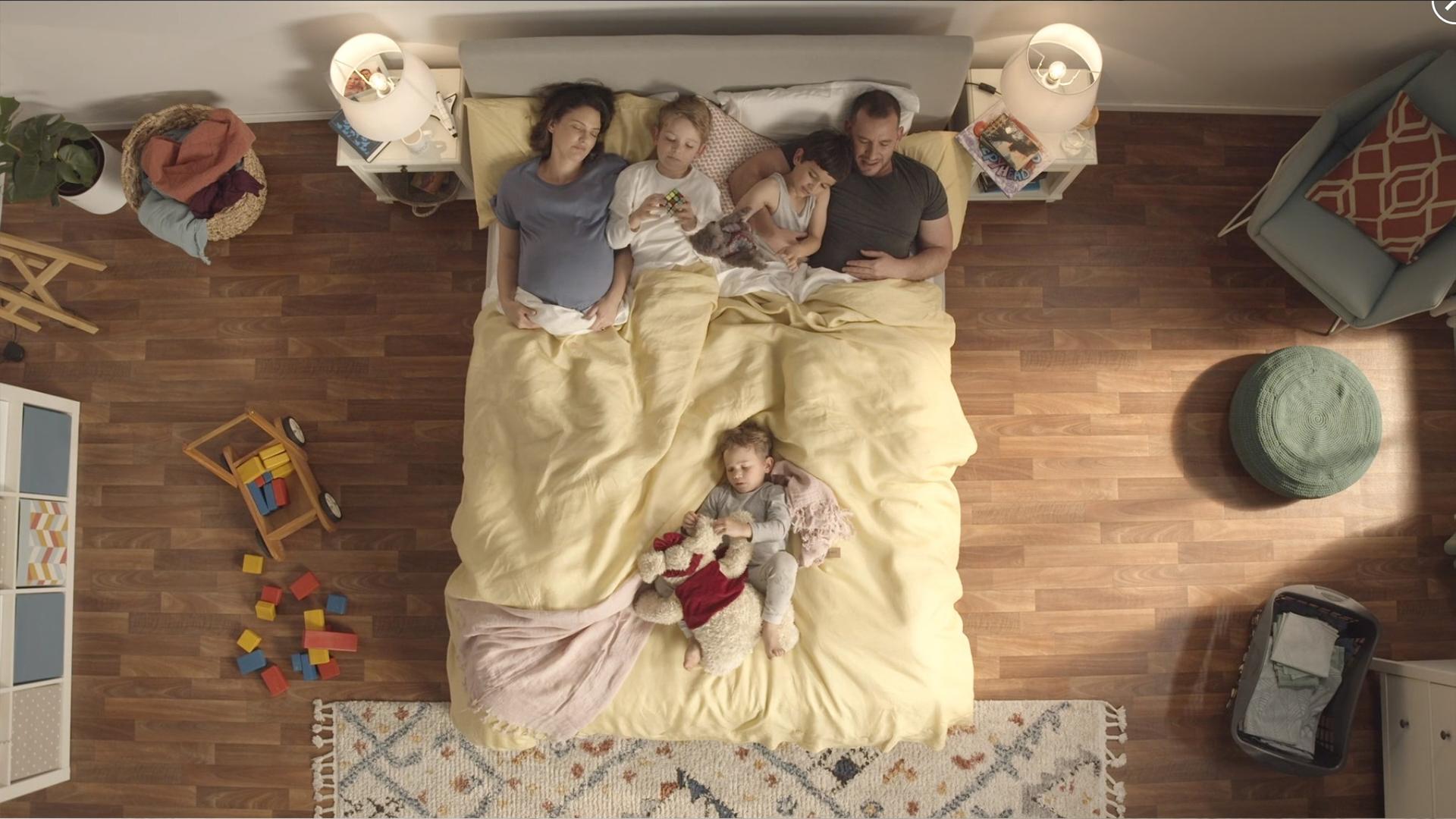 Future Proof. Adapt it if you need to.
For new body aches, pregnancy or even just for a comfort preference swap.
Whilst the Sleeping Duck comfort is simple to set up for you with the perfect firmness, it comes with an inbuilt customisation system that is capable of adapting in the future to meet any unique needs that arise for you.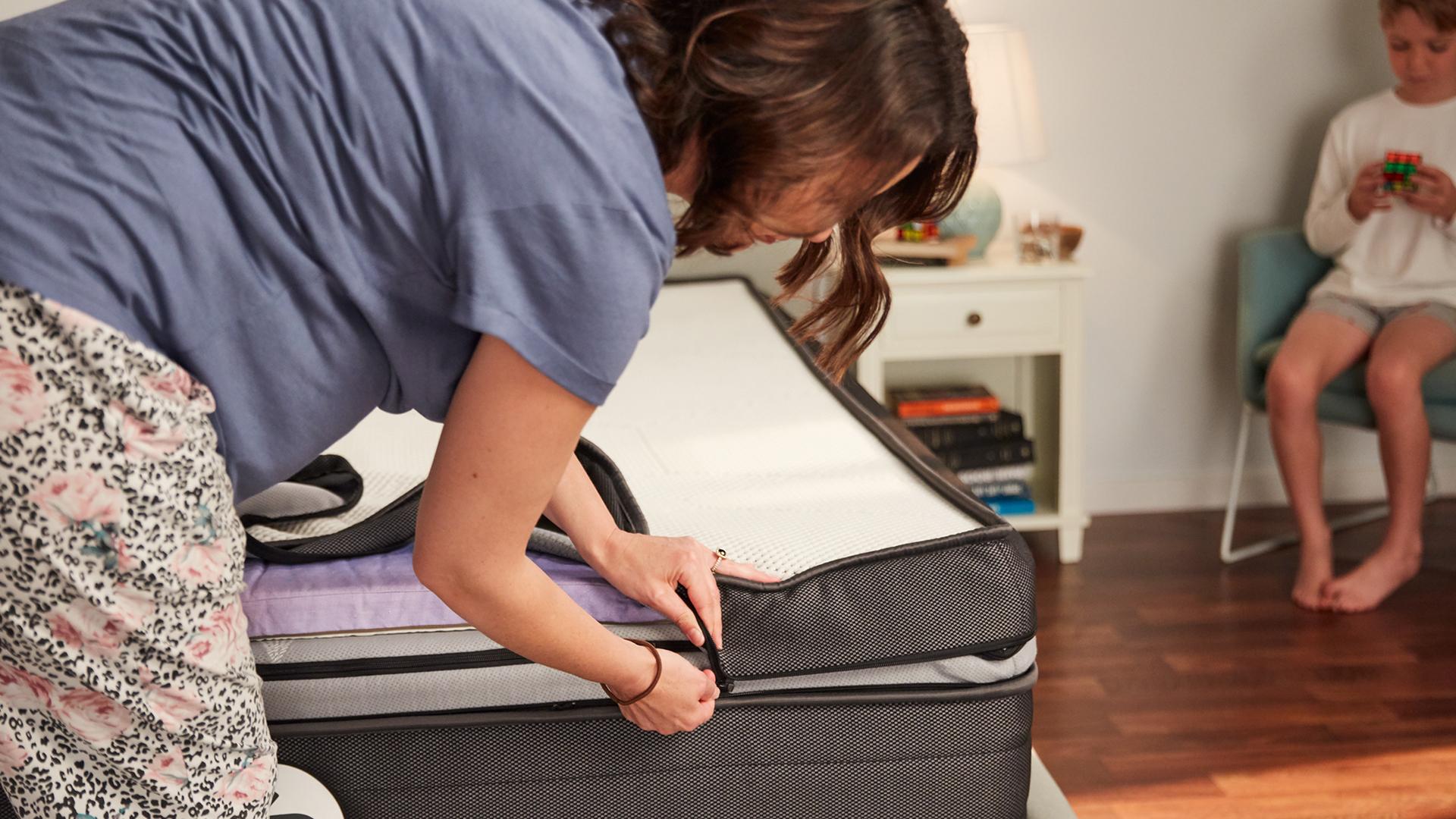 A Commitment to Customer Service.
And a string of Life Changing Experiences.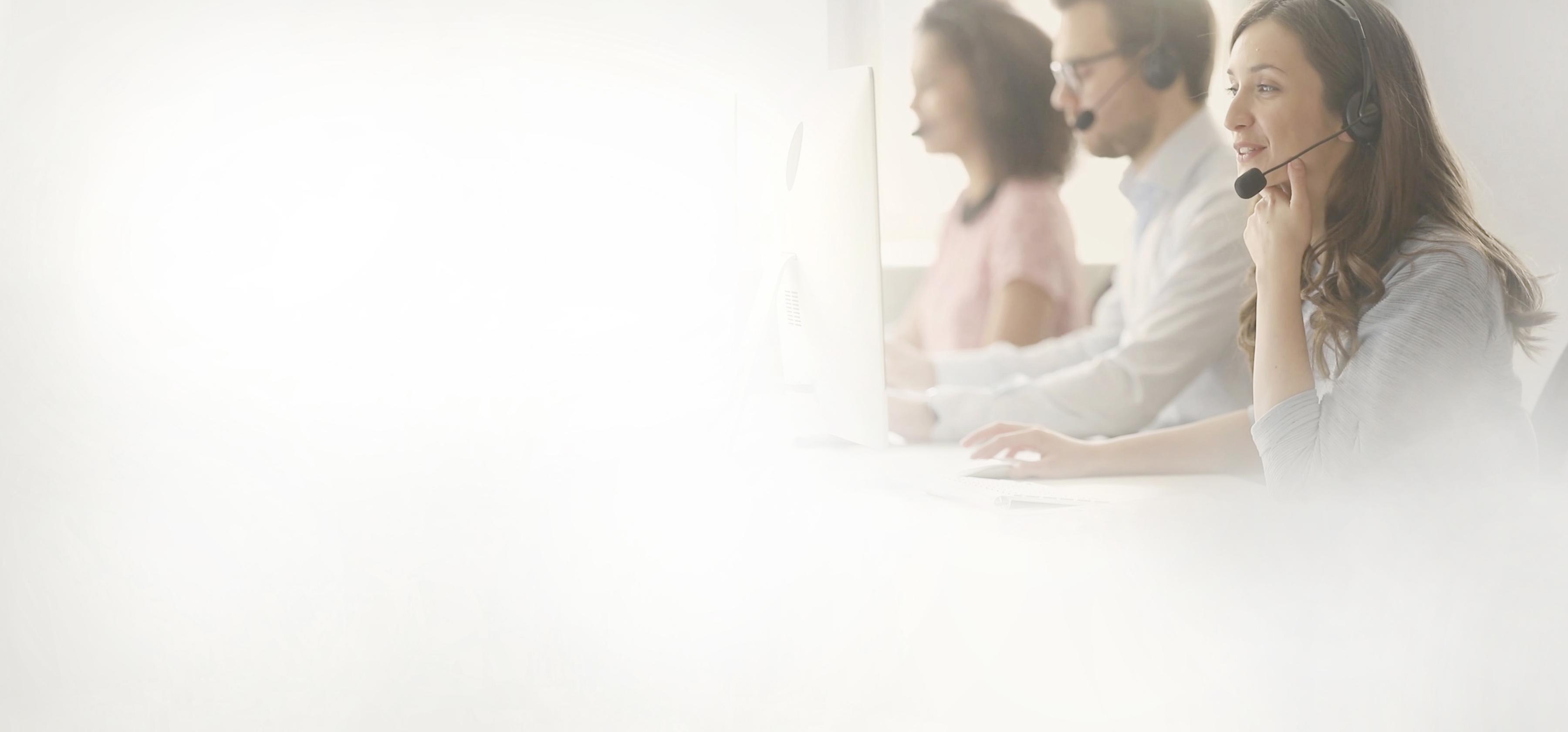 Great Customer Service is just the beginning
Frequently Asked Questions
Which firmness should I start on?
At Sleeping Duck, we have two initial firmness options which you can choose from! We believe the firmness of your mattress is a very personal thing. It can depend on a range of factors such as a person's activity, body shape, weight and medical history. While we're not medical professionals, as a general rule of thumb from speaking to thousands of our customers we have some general starting recommendations.
Medium
Recommended for side sleepers or front sleepers, our Medium sinks in slightly and contours to your body shape, allowing for targeted support. It's designed to relieve common pressure points such as shoulders and hips. You will wake up feeling cosy and well rested.
Firm
Recommended for back sleepers or for those with back problems our Firm has a strong focus on providing overall support, while still providing an initial softness through our AntiGravity layer.
Half-Half
Recommended for couple that can't agree! Available on our Queen, King or Super King size, Half-Half is ideal for couples who have different firmness preferences. This means one sleeper side will be Medium and the other sleeper side Firm.
Still unsure? Get in touch with SDHQ and we can get you started!
Do you only offer Medium and Firm?
We also offer Soft and Extra Firm options which are custom made Precision Foam Pads available after purchase. You can adjust to these free of charge within your 100 Night Guarantee after trying your starting firmness for 21 nights.
Simply get in touch with SDHQ to organise your firmness adjustment.
How is the mattress packaged?
Our mattresses are compressed, vacuum sealed, rolled, and finally boxed for convenient travel. By using vacuum compression technology, we can reduce our mattress to one fifth of its standard thickness. For example, our King size mattress comes packed in a box approximately 200cm x 40cm x 40cm.
The springs in our mattress move independently. This means with the right equipment they can be compressed and rolled up without compromising performance or durability.
Once decompressed, the mattress will return to its original size and shape within 72 hours. Without the right equipment, attempting to fold or roll up an opened mattress will result in potentially permanent damage to the springs.
Does my Mattress come with a BreatheTech Cover?
Yes, all of our Mattresses are fitted with the standard BreatheTech Cover.
If you're interested in waterproof protection for your Duck, you can purchase the waterproof style of our BreatheTech Cover separately. We recommend having a spare handy for longevity and to maintain optimal hygiene.
You can find more information on our BreatheTech Cover recommendations here.
Can I use an electric blanket or mattress protector?
We've tested our mattress with electric blankets and can confirm that the heat won't affect the performance of our foams. That being said we always recommend exercising the appropriate caution that comes with operating an electric blanket.
A mattress protector can absolutely add that extra peace of mind and keep your mattress fresh for longer. If you do choose to use one, we recommend a breathable material such as TENCEL™ or bamboo. This will ensure the mattress continues to have the best air circulation for a cooler sleep.
Our BreatheTech sleep surface is washable, for those times where a mattress protector doesn't quite, well, protect. If washing doesn't quite get you the results you're looking for, you can always refresh your cover by purchasing a new one through SDHQ.
How do I clean the mattress?
Our Hybrid designed mattress is made up of four layers, each with their own cleaning recommendations.
Our BreatheTech Cover can be laundered in a washing machine on a warm gentle cycle, and tumble dried on a cool setting or line dried. To prevent fading or weather damage, we recommend against line drying for an extended period of time. If you find that the stains cannot be removed, or if it is damaged beyond repair, a new topper can be purchased separately.
Our AntiGravity cover, ComponentAdapt cover and Precision Foam Pad cover can be spot cleaned to remove spills or stains, or gently vacuumed using a handheld vacuum.
The Precision Foam Pads and the AntiGravity surface foam cannot be washed, and shouldn't be spot cleaned with anything wet. If they do get wet they should be patted dry or aired, out of direct sunlight, then vacuumed or brushed gently.
Please contact our team at SDHQ if you have any questions.
Can I purchase 2 Single size mattresses to make up a King size?
To exactly replicate the size of a King mattress, you would need to combine two Long Singles (not Singles).
A Long Single is the width of a Single mattress, with the length of a King mattress. If you were to use two Single mattresses, you'd find them much shorter than a King.
We do not make Long Single mattresses, however our Queen, King and Super King sizes allow Half-Half firmness configurations. This allows for each sleeper to customise the firmness of their side without having to compromise. Coupled with our AntiGravity foam and the multi-zoned pocket spring system, you shouldn't feel your partner move any more than two Long Singles together.
For mattresses, bed bases, and frames, delivery options and times will vary depending on your area. You'll be advised of your delivery method during the checkout process, after providing your address.
For more information about our deliveries, we recommend reading our delivery FAQs.
Build your Bedroom
All Sleeping Duck products are engineered to high standards and are built to complement our Mattress.